Exterior Window Cleaning To Brighten Your Home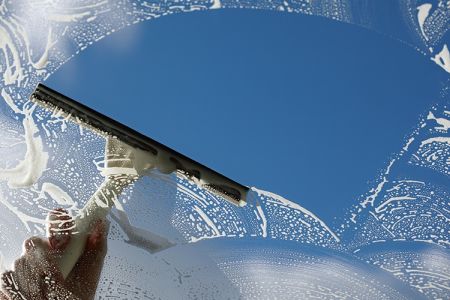 People who live in glass houses shouldn't throw stones, and amatuer pressure washers shouldn't try exterior window cleaning in Rome, North Georgia, or anywhere. Pressure washing employs finely-focused PSI (pounds per square inch) water power to power away dirt, stains, and organic growth from hard surfaces, but more fragile surfaces like windows require special treatment. Inexperienced, amatuer, and DIY pressure washers attempting exterior window cleaning often end up with broken or cracked windows.
Have Faith Pressure Washer Services, LLC is fully equipped for soft washing and complete exterior window cleaning for any and all residential and commercial applications. Our experienced exterior window cleaning team has the skill and expertise to safely and efficiently bring your Rome property's windows to the peak of their transparency.
If the windows of your Rome area home or commercial property are looking dingy or greenish, choosing professional exterior window cleaning from Have Faith Pressure Washing Services is smart, cost-effective, and safe for your windows, and all of your valuable property.
Prevent Broken Windows — Don't Go DIY
Pressure washing unleashes the awesome power of H2O, but it takes knowledge, training, and focus to wield that power properly, especially in relation to fragile windows. Broken windows are the most common type of damage done by unprofessional pressure washing contractors. Our commercially licensed and insured professional exterior window cleaning technicians take the greatest care in making your property's windows look their bright, shining best.
Different types of surfaces require different cleaning treatments and strategies and true pros recognize this fact, and research and develop specific systems for window cleaning, roof cleaning, gutter cleaning, and house washing that vary from region to region due to seasonal weather conditions. Have Faith Pressure Washer Services, LLC is the undisputed authority on soft washing pressure washing in Rome, and you can trust our fully licensed and insured professionals to take the greatest care and provide the maximum soft wash TLC for astonishing results that make it sparklingly clear that professional exterior window cleaning is a cost-effective, value-added service.

What Our Clients Are Saying
Our builder left shingles in the gutters so it was less pressure washing and more of Jamie being 20+ feet on a ladder to hand clean them. On time, great price, and an honest man. Definitely would recommend him to anyone.
Jamie did a wonderful job pressure washing our corporate signage! I highly recommend him for his professionalism and how quickly he got the job done!
Jamie is very professional and a pleasure to work with. He was on time, trustworthy, and his work ethic is great. Very pleased with the job he did on my awning. It looks brand new. I will definitely use his services again in the future.
I am MORE than satisfied with the work on 7/30/2021. We had several large areas of concrete cleaned and all areas exceeded my expectations. Additionally, Jamie is knowledgeable and explained the process along the way. The clean driveway, walk and sidewalk make the entire house shine. Great job.
Jamie came the next day after I called to give me a price. Very reasonable price!! He's very nice and does excellent work! We will definitely use him again!
Jamie is punctual and did a fantastic job. Our house, windows, gutter cover and driveway all look spotless with the pressure washing service! Availability and prices are also reasonable. If you need your home pressure washed, do not hesitate to link up with Have Faith Pressure Washer. It will make the world of difference!
He came when he said he would. He was friendly and professional. He did his job quickly and completely. I was very impressed. I would recommend him to anyone who wants a job well done.

Cleaning Tips & Articles
6 Blessings Of Gutter Cleaning

Experts advise that you should have your gutters cleaned bi-annually: just before the summer and the winter. But WHY is it important to properly maintain your gutters? Well, we've got six good reason […]

Graffiti: Art or Vandalism?

Graffiti is defined as "writing or drawings made on a wall or other surface, usually without permission and within public view." Graffiti ranges from simple written words to elaborate wall paintings, […]
Contact Us

Today
Schedule a Free Consultation Today with Your Local Rome Pressure Washing Company!