Your Pressure Washing Company in Rome, GA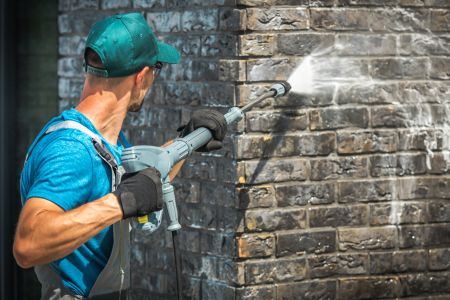 Rome, Georgia was named for Rome, Italy, which is also a city built on seven hills, and it's our job to keep the city of Rome shining with professional pressure washing services that you can trust for quality, value, and heavenly results every time. At Have Faith Pressure Washer Services, LLC we're dedicated to keeping Rome beautiful one exterior cleaning project at a time, and we follow the core values of our faith: honesty, integrity, loving our neighbors, and being our brother's keeper when it comes to keeping our neighbors' residential and commercial Rome properties clean, polished, and protected from nature's worst threats.
The ancient Romans were famed for their architectural achievements and one truth that remains from those ancient times and the famous ancient ruins of Rome, is that all structures require maintenance to continue standing, functioning, and providing shelter properly. Have Faith Pressure Washer Services, LLC provides the Rome, Georgia Metropolitan Area with the highest caliber professional pressure washing services: including soft washing for house washing, gutter, roof, and window cleaning; and high psi pressure washing for concrete cleaning, graffiti removal, and commercial pressure washing. Pressure washing can remove decades of built dirt, grime, and gunk in minutes, and there's no more cost-effective, quick, or efficient method of cleaning, maintaining, and upgrading your property than hiring pros you can trust, like Have Faith Pressure Washer Services, LLC.
If you've got exterior cleaning challenges for your Rome residential or commercial properties, Have Faith Pressure Washer Services, LLC is the answer to your prayers.
Concrete Cleaning Resurrects Your Rome Flat Surfaces
In addition to the normal forces of nature that attack all outside surfaces, flat concrete surfaces like sidewalks, driveways, and parking lots are also constantly assaulted by foot and vehicle traffic that grinds dirt in even further, creating a perfect storm of dirt and grime. Our exterior cleaning experts see filthy concrete as a great opportunity to demonstrate the amazing transformative cleaning power of pressure washing. Pressure washing is a miracle of modern science that takes exterior cleaning to its highest level and it can remove years of ground-in grime in minutes leaving your concrete surfaces look new again, and as clean and pristine as humanly possible.
House Washing Is At The Center Of Rome's Curb Appeal
Rome is centrally located in the heart of a geographic triangle formed by Atlanta, Chattanooga, and Birmingham, and there is little doubt that your house itself is the center of your property's total curb appeal picture. Our soft washing experts treat your home's vinyl or wood siding with professional TLC to produce amazing results that'll boost your home's curb appeal in a day. For hardier building materials like brick, cement block, stone, or metal, we've got the heavy-duty, commercial-grade pressure washing equipment with the raw power to blast away stains and contaminants. You can trust the exterior cleaning pros of Have Faith Pressure Washer Services, LLC for dependable, affordable house washing services and an attention-to-detail that'll clean and polish your home or business's exterior and boost its curb appeal to the heavens.
Recent Projects In Rome, GA
Have Faith Pressure Washer Services, LLC was called to clean the mold and mildew off this house and apartment building. If you need house washing services for your home then call Have Faith Pressure […]
Have you ever wondered what your home would look like if the exterior of it was cleaned by a professional? Have Faith Pressure Washer Services, LLC completed a whole house wash including the porch, d […]

Reviews & Testimonials on Have Faith Pressure Washer Services, LLC in Rome, GA
There are currently no reviews or testimonials for Rome, GA. Check back soon!

Cleaning Tips & Articles
6 Blessings Of Gutter Cleaning

Experts advise that you should have your gutters cleaned bi-annually: just before the summer and the winter. But WHY is it important to properly maintain your gutters? Well, we've got six good reason […]

Graffiti: Art or Vandalism?

Graffiti is defined as "writing or drawings made on a wall or other surface, usually without permission and within public view." Graffiti ranges from simple written words to elaborate wall paintings, […]
Contact Us

Today
Schedule a Free Consultation Today with Your Local Rome Pressure Washing Company!