Professional Pressure Washing Company For Adairsville, GA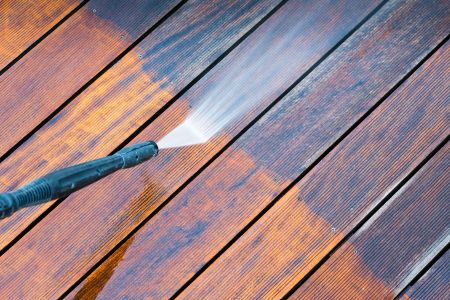 There are a lot of reasons to choose a local pressure washing team for your exterior cleaning needs in Adairsville, but one you might not have thought of is that local pressure washers know local weather conditions, and local pressure washers know that weather and climate are the direct or indirect cause of much of the stains and organic growth we fight everyday. Have Faith Pressure Washer Services, LLC is staffed with trained professionals familiar with local climate conditions and how they affect your exterior surfaces. They're also experts at killing and removing organic threats, and dissolving dirt and grime with pressure washing and soft washing processes for house washing, roof cleaning, concrete cleaning, graffiti removal, and every exterior cleaning application you can think of.
The relentless sun and high iron content in sprinkler water can cause discoloration of roofs and siding, but it's the high humidity in our Adairsville area that encourages rapid growth of algae, mildew, moss, mold, and other organic growths that are able to latch on to exterior surfaces and thrive. These damaging organisms root themselves solidly and actually eat away at siding and roofing shingles. If you've ever tried to clean windows infested with algae you know it just ends up getting smeared, all of these types of organic growth vary by region, but the one thing they have in common is that you have to kill them before you try to remove them.
The Have Faith Pressure Washer Services, LLC team knows the conditions and organisms common in the Adairsville area, and they know how to destroy them with powerful, eco-friendly chemicals, and how to remove them with pressure washing and soft washing. You can trust us to get your Adairsville property looking its best and to protect it from the worst aspects of nature and the North Georgia climate.
You can trust Have Faith Pressure Washer Services, LLC to clean and protect your Adairsville property from effects of nature and climate with skilled pressure washing and TLC-focused soft washing.
Concrete Cleaning Renews Adairsville's Dirtiest Surfaces
As if the normal forces of climate and nature that attack all outside surfaces aren't enough, flat concrete surfaces like sidewalks, driveways, and parking lots are also constantly trample under foot and vehicle traffic that grinds dirt in even further, creating build-up of dirt and grime that's hard to erase. Our exterior cleaning experts see dirty concrete surfaces as great chances to demonstrate the near-miraculous transformative cleaning power of pressure washing and soft washing. Pressure washing is the closest thing to a time machine for your Adairsville home or property because it can remove years and decades of ground-in grime in minutes, leaving your concrete surfaces looking new again.
House Washing Protects Your Adairsville Home
Moss, mold, mildew and fungus can contribute to the rot and decay of your home's siding if left unabated. Not to mention those undesirable accents of green, grey and brown that detract from your property's curb appeal and overall image. Our special soft washing process for roofs and siding chemically kills destructive natural organisms and removes stains and discoloration, leaving your property's exteriors looking brand new. Soft washing is the safe, damage-free method of cleaning more-fragile building materials like wood, vinyl siding, and asphalt shingles, and we're the local leader in soft washing. Call Have Faith Pressure Washer Services, LLC for honest value, expert exterior cleaning, and fair, affordable pricing.

Reviews & Testimonials on Have Faith Pressure Washer Services, LLC in Adairsville, GA
There are currently no reviews or testimonials for Adairsville, GA. Check back soon!

Cleaning Tips & Articles
6 Blessings Of Gutter Cleaning

Experts advise that you should have your gutters cleaned bi-annually: just before the summer and the winter. But WHY is it important to properly maintain your gutters? Well, we've got six good reason […]

Graffiti: Art or Vandalism?

Graffiti is defined as "writing or drawings made on a wall or other surface, usually without permission and within public view." Graffiti ranges from simple written words to elaborate wall paintings, […]
Contact Us

Today
Schedule a Free Consultation Today with Your Local Rome Pressure Washing Company!