Kennesaw Relies On Have Faith Pressure Washer Services, LLC For Dependable Pressure Washing Services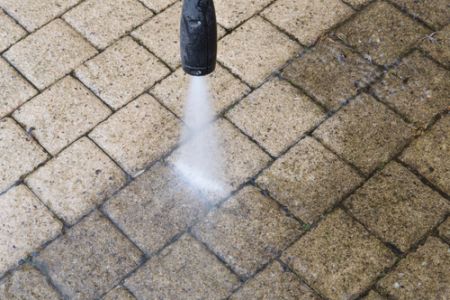 Originally known as "Big Shanty" because as the Western and Atlantic Railroad was being built in the late 1830s, shanty towns arose around the railway to house the workers, the City of Kennesaw was eventually renamed after Kennesaw Mountain. Today's Kennesaw homes are far from shantys of the past, with consistent city growth driving rising property values, so it's a wise decision to hire pressure washing professionals to clean and maintain your Kennesaw property so it will never be mistaken for a big shanty.
If you're looking for a team of pressure washing professionals to take care of your Kennesaw property, there are three main things you should consider:
Trustworthiness
Quality
Price
Have Faith Pressure Washer Services, LLC has a long history of dependable, reliable customer service and we base our business plan on our Christian values of honesty, integrity, hard work, and a job well done. You can trust our pressure washing and soft washing experts to treat your Kennesaw home or business with the maximum care, while always producing spectacular cleaning results. We know we have to earn your trust on each project, and we're confident we will if you decide to hire us for your exterior cleaning needs.
We have the heavy-duty pressure washing equipment for jobs like concrete cleaning, commercial pressure washing, and graffiti removal, plus we've got the training, skills, eco-safe chemicals, and specialized equipment for soft washing applications like house washing, roof cleaning, and exterior window cleaning. Have Faith Pressure Washer Services, LLC is the top-rated, best-reviewed, and most versatile exterior cleaning company in North Georgia, and the quality of our service is simply unmatched in Kennesaw.
Finally, our prices are competitive with other exterior cleaning and pressure washing companies in the Kennesaw area, even the side-giggers and amateurs, but when you place your faith in Have Faith Pressure Washer Services, LLC you get the highest quality service and results guaranteed, plus you also get an advocate and agent for your property's health, appearance, and longevity, that you can trust.
To keep your Kennesaw home or property from looking like a big shanty, hire a professional pressure washing contractor that won't railroad you and that you can trust, like Have Faith Pressure Washer Services, LLC.
Concrete Cleaning Reverses The Effects Of Nature On Your Kennesaw Home
Concrete cleaning is one of the dirtiest jobs professional pressure washers do. Dirty in the sense that concrete surfaces are just natural magnets for dirt, grime, set-in stains, and organic growths. Part of the reason for that is because concrete is a porous material and those pores are like little anchors for dirt, fungi, and mold, making removal more challenging. Add to that the fact that flat concrete surfaces like driveways, sidewalks, and parking lots have foot and auto traffic constantly grinding the gunk further into those concrete pores and you've got a perfect storm for smudges and stains. That's why you need a pressure washer that specializes in chemically-assisted soft washing, as well as, high psi pressure washing, like Have Faith Pressure Washer Services, LLC. Our soft wash and high psi combo will clean your concrete surfaces to their peak appearance.
A House Washing Professional Can Clean And Protect Your Kennesaw Home
Our professional house washing process does an especially impressive job of killing bacteria, fungus, algae, mold, and mildew that love to attack your vinyl and wooden siding. Our soft wash solutions destroy these dangerous organisms and dissolve dirt and stains, which are then easily removed with low-pressure or no-pressure washing. Soft washing is great for roof cleaning, and vinyl and wooden siding because it is safe for damage-prone materials, but it is also extremely effective for any surfaces where organisms have taken root and established a firm foothold.

Reviews & Testimonials on Have Faith Pressure Washer Services, LLC in Kennesaw, GA
There are currently no reviews or testimonials for Kennesaw, GA. Check back soon!

Cleaning Tips & Articles
6 Blessings Of Gutter Cleaning

Experts advise that you should have your gutters cleaned bi-annually: just before the summer and the winter. But WHY is it important to properly maintain your gutters? Well, we've got six good reason […]

Graffiti: Art or Vandalism?

Graffiti is defined as "writing or drawings made on a wall or other surface, usually without permission and within public view." Graffiti ranges from simple written words to elaborate wall paintings, […]
Contact Us

Today
Schedule a Free Consultation Today with Your Local Rome Pressure Washing Company!