Dallas Pressure Washing Services You Can Depend On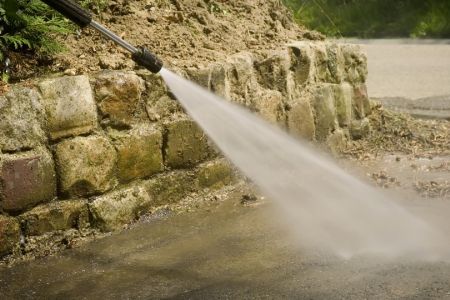 Traditional southern hospitality is alive and well in Dallas, Georgia and Have Faith Pressure Washer Services, LLC is on a mission to make Dallas home and business owners' lives a little easier by replacing your exterior cleaning worries with dependable, trustworthy, professional residential and commercial pressure washing. We're Dallas's soft washing authority for expert house washing and roof cleaning without damage to your valuable property and we've also got the commercial-grade, heavy-duty pressure washing equipment for your toughest commercial pressure washing jobs.
Dallas has been around for a long time and our population just keeps growing, along with Dallas property values. Professional pressure washing is an affordable and efficient way to keep those property values on the rise by instantly boosting the curb appeal of your Dallas property. Successful realtors and landlords realize the value of professional exterior cleaning and its effectiveness at freshening up a property to preserve and enhance its appearance and drive sales and rentals. You can trust Have Faith Pressure Washer Services, LLC to elevate your residential or commercial property to curb appeal perfection.
Our professional pressure washing and exterior cleaning services are so affordable and effective that Dallas home and business owners know that hiring Have Faith Pressure Washer Services, LLC is a sound investment in maintenance and renewal.
Have Faith Pressure Washer Services, LLC Is The Leader For Dallas Concrete Cleaning
We utilize cutting-edge technology and eco-friendly cleansing solutions that penetrate porous concrete at a molecular level and root-out tough oil, rust, and grease stains, restoring your driveways, sidewalks, and parking lots to their original pristine appearance. Concrete cleaning is one of the most stunning applications of pressure washing because the results are so transformative. Have Faith Pressure Washer Services, LLC has the tools, technique, determination, and training for the toughest stains and surfaces.
Professional House Washing You Can Trust In Dallas
Our whole town is representative of the natural beauty of Southern living and we're continuing that tradition by offering affordable, reliable house washing services to our Dallas neighbors. In just one day, Have Faith Pressure Washer Services, LLC can restore every exterior surface on your property to its ideal appearance, boosting curb appeal and increasing property values for Dallas residences and businesses. Beauty is in the eye of the beholder, but cleanliness is next to Godliness, so don't take any chances, call Have Faith Pressure Washer Services, LLC to keep your Dallas home or property looking its best.

Reviews & Testimonials on Have Faith Pressure Washer Services, LLC in Dallas, GA
There are currently no reviews or testimonials for Dallas, GA. Check back soon!

Cleaning Tips & Articles
6 Blessings Of Gutter Cleaning

Experts advise that you should have your gutters cleaned bi-annually: just before the summer and the winter. But WHY is it important to properly maintain your gutters? Well, we've got six good reason […]

Graffiti: Art or Vandalism?

Graffiti is defined as "writing or drawings made on a wall or other surface, usually without permission and within public view." Graffiti ranges from simple written words to elaborate wall paintings, […]
Contact Us

Today
Schedule a Free Consultation Today with Your Local Rome Pressure Washing Company!