We Offer Gutter Cleaning For Your Protect Home From Water Damage Caused By Clogged Gutters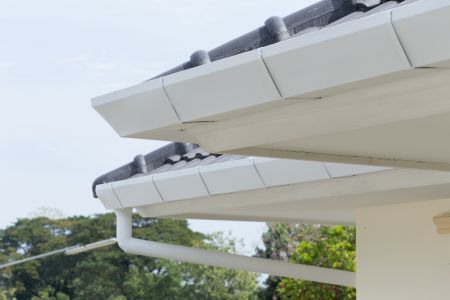 Your rain gutters play an important part in diverting water, minimizing erosion, and guarding against damage to your roof, and your Rome home's solid foundation, but gutter cleaning can be a tedious and dangerous chore. There's no need to worry about your gutters when regular gutter cleaning by the pressure washing professionals at Have Faith Pressure Washer Services, LLC are so affordable and reliable. Skip the ladder balancing and let us take the risks, we'll have the gutters of your Rome home or business functioning at their optimum level and shining like a picture frame around your beautiful home.
In our pursuit to provide our North Georgia neighbors with the best possible Rome pressure washing, our customers have been impressed with our work ethic and service and have requested our help with other exterior cleaning issues like exterior window cleaning, roof cleaning, and gutter cleaning, both inside and out. Our response has always been to first educate ourselves, then acquire the best equipment, train, practice, refine our methods and chemicals, and execute as perfectly as possible. Have Faith Pressure Washer Services, LLC is the smart, economical, trustworthy source for gutter cleaning and maintenance in the Rome area, so call today for a free consultation and make sure your gutters are properly protecting your home or business's roof and foundation.
You can trust the gutter cleaning pros at Have Faith Pressure Washer Services, LLC to keep your Rome gutters looking and functioning at their peak performance.
Make Your Gutters Shine
A bright, shining gutter makes a fine frame for your picture perfect property. Those backed-up leaves cause stains and streaks on your gutters that can detract from the pristine curb appeal of your home or business. We can make the outside of your gutters gleam and glitter like an expensive frame on a piece of priceless art, and function like brand new. Call Have Faith Pressure Washer Services, LLC today and let us polish and protect your property, from top to bottom.
Having the right tools for a project goes a long way toward the successful completion of a job, and Have Faith Pressure Washer Services, LLC has the proper tools, equipment, chemicals, and well-trained pros to provide amazing results in every exterior cleaning application. We've got the high-pressure H2O and the specialized gutter cleaning tools to get your gutters flowing like Niagara Falls and the chemical solutions and soft wash technology to brighten the outside of your gutters so they'll shine like a brilliant frame around your curb appeal-friendly Rome area home or property.

What Our Clients Are Saying
Our builder left shingles in the gutters so it was less pressure washing and more of Jamie being 20+ feet on a ladder to hand clean them. On time, great price, and an honest man. Definitely would recommend him to anyone.
Jamie did a wonderful job pressure washing our corporate signage! I highly recommend him for his professionalism and how quickly he got the job done!
Jamie is very professional and a pleasure to work with. He was on time, trustworthy, and his work ethic is great. Very pleased with the job he did on my awning. It looks brand new. I will definitely use his services again in the future.
I am MORE than satisfied with the work on 7/30/2021. We had several large areas of concrete cleaned and all areas exceeded my expectations. Additionally, Jamie is knowledgeable and explained the process along the way. The clean driveway, walk and sidewalk make the entire house shine. Great job.
Jamie came the next day after I called to give me a price. Very reasonable price!! He's very nice and does excellent work! We will definitely use him again!
Jamie is punctual and did a fantastic job. Our house, windows, gutter cover and driveway all look spotless with the pressure washing service! Availability and prices are also reasonable. If you need your home pressure washed, do not hesitate to link up with Have Faith Pressure Washer. It will make the world of difference!
He came when he said he would. He was friendly and professional. He did his job quickly and completely. I was very impressed. I would recommend him to anyone who wants a job well done.

Cleaning Tips & Articles
6 Blessings Of Gutter Cleaning

Experts advise that you should have your gutters cleaned bi-annually: just before the summer and the winter. But WHY is it important to properly maintain your gutters? Well, we've got six good reason […]

Graffiti: Art or Vandalism?

Graffiti is defined as "writing or drawings made on a wall or other surface, usually without permission and within public view." Graffiti ranges from simple written words to elaborate wall paintings, […]
Contact Us

Today
Schedule a Free Consultation Today with Your Local Rome Pressure Washing Company!