Graffiti: Art or Vandalism?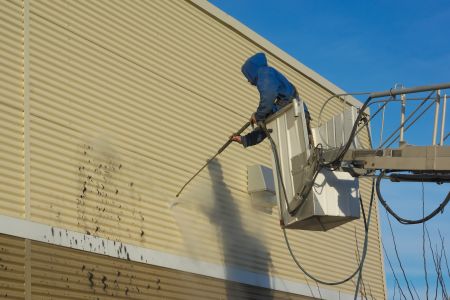 Graffiti is defined as "writing or drawings made on a wall or other surface, usually without permission and within public view." Graffiti ranges from simple written words to elaborate wall paintings, and has existed since ancient times, dating back to ancient Egypt, Greece, and the Roman Empire. Graffiti is a controversial subject and defacing or painting property without permission is considered by civic authorities as vandalism and property damage, which is a punishable crime. While at the same time graffiti has evolved into an art form and a form of self expression that some proponents of the 1st Amendment defend vigorously. Graffiti became a growing issue for many American cities in the 1960's, spreading from the New York City subway system in the early 1970s to the rest of the United States and the rest of the world rapidly.
The most common type of graffiti is done by "taggers," who use spray paint, and sometimes stencils, to "tag" public structures with their initials, logos, nicknames, or tags. Graffiti can be creative and beautiful, but spray paint can be used for hurtful and malicious purposes as well, and when it's on your property, you're the only judge of whether it's art or vandalism.
You control everything on your property, including graffiti, so if you want graffiti gone, call the graffiti removal specialists at Have Faith Pressure Washer Services, LLC.
Transforming Graffiti Defaced Surfaces Into Pristine Blank Canvases Is Its Own Art Form
We call pressure washing, "reverse art," creating a like-new looking blank canvas from an unwanted work of spray paint vandalism. We believe that exterior cleaning is an art, greatly aided by science. Scientific advancements in pressure washing, soft washing and eco-friendly cleaning solutions are our palettes, paints, and brushes, but there's a definite art in the attention-to-detail, focus, and patience required to perfectly clean an exterior surface; square inch by square inch. Whether your exterior surfaces are being attacked by nature or obnoxious kids with cans of spray paint, pressure washing works like a time machine and restores your defaced and dirty surfaces into "just like new" masterpieces of blemishless, immaculate cleanliness.
Graffiti Is A Pressure Washing Code Red
When your property falls victim to unwanted and offensive graffiti, the overwhelming reaction is to get rid of it, quick! We're especially offended by curse words, hate speech, and obscenities spray-painted where our kids can see them, and graffiti removal is a specialty of Have Faith Pressure Washer Services, LLC. We've got the motivation, dedication and determination to clear every trace of graffiti from your valuable property, quickly and effectively. We know that graffiti can be an emergency situation and we always treat it as such. Plus, our heavy-duty, high psi pressure washing equipment and expert eco-friendly chemical soft washing is the perfect remedy for all of your residential and commercial pressure washing needs: your storefront, building, parking lot, or home will not only be graffiti free, it'll look brand new again.

What Our Clients Are Saying
Our builder left shingles in the gutters so it was less pressure washing and more of Jamie being 20+ feet on a ladder to hand clean them. On time, great price, and an honest man. Definitely would recommend him to anyone.
Jamie did a wonderful job pressure washing our corporate signage! I highly recommend him for his professionalism and how quickly he got the job done!
Jamie is very professional and a pleasure to work with. He was on time, trustworthy, and his work ethic is great. Very pleased with the job he did on my awning. It looks brand new. I will definitely use his services again in the future.
I am MORE than satisfied with the work on 7/30/2021. We had several large areas of concrete cleaned and all areas exceeded my expectations. Additionally, Jamie is knowledgeable and explained the process along the way. The clean driveway, walk and sidewalk make the entire house shine. Great job.
Jamie came the next day after I called to give me a price. Very reasonable price!! He's very nice and does excellent work! We will definitely use him again!
Jamie is punctual and did a fantastic job. Our house, windows, gutter cover and driveway all look spotless with the pressure washing service! Availability and prices are also reasonable. If you need your home pressure washed, do not hesitate to link up with Have Faith Pressure Washer. It will make the world of difference!
He came when he said he would. He was friendly and professional. He did his job quickly and completely. I was very impressed. I would recommend him to anyone who wants a job well done.

Cleaning Tips & Articles
6 Blessings Of Gutter Cleaning

Experts advise that you should have your gutters cleaned bi-annually: just before the summer and the winter. But WHY is it important to properly maintain your gutters? Well, we've got six good reason […]

Graffiti: Art or Vandalism?

Graffiti is defined as "writing or drawings made on a wall or other surface, usually without permission and within public view." Graffiti ranges from simple written words to elaborate wall paintings, […]
Contact Us

Today
Schedule a Free Consultation Today with Your Local Rome Pressure Washing Company!