Experienced Pressure Washing Specialists Serving Hiram, GA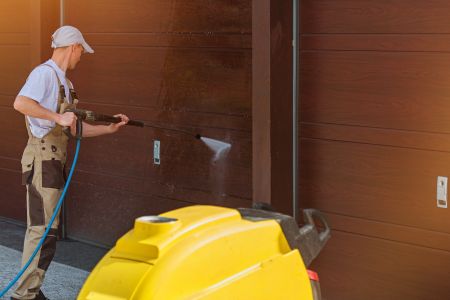 The City of Hiram has progressed from sleepy, rural railroad town, into the major commercial corridor for Paulding County, one of the fastest growing counties in the country, and local property values are growing right along with it. Professional pressure washing is one of the quickest and most cost-effective ways to get the most out of your Hiram property's curb appeal potential, and Have Faith Pressure Washer Services, LLC has earned our reputation as Hiram's leading pressure washing provider with a long, successful history of amazing pressure washing results and delighted customers.
Just a short drive northwest of Atlanta, Hiram blends the best of the past, present, and future. Our experienced house washing, roof cleaning, and driveway cleaning techs can reverse years of past wear and dirty build-up to make your Hiram home or business look its absolute best in the present, while defending against dirt, organic contaminants, and natural wear in the future. We pledge to stay informed of, and take advantage of, new developments and techniques in the future of the pressure washing and exterior cleaning industry, while always remaining in the present moment and applying maximum skill, determination, and attention-to-detail to every exterior surface we transform into its past newness and ultimate appearance.
Have Faith Pressure Washer Services, LLC can take your Hiram home or business back in time to when it looked brand new with our full suite of top-rated pressure washing and exterior cleaning services designed to keep your property pristine and protected in the present, and the future.
We Bring Honesty And Integrity To Hiram Concrete Cleaning
We've built a reputation as the leading authority on Hiram and North Georgia exterior cleaning, but over the years we've evolved our services to meet our customers needs with our trademark friendly, professional customer service and attention-to-detail applied to professional pressure washing and soft washing applications to provide our clients with a complete cleaning and maintenance solution for all of the exterior surfaces on their property. And it all began with our first exposure to pressure washing as a concrete cleaning application. That first, nearly miraculous transformation of deeply dirty concrete to a shining, blemish-free surface was so satisfying and fulfilling we turned it into our present business. Call Have Faith Pressure Washer Services, LLC to see what we mean and experience a new pride-of-ownership for your property.
Hiram House Washing Is A Hit
We've got the high psi, heavy-duty, commercial-grade equipment for brick, block, and concrete houses and the low-pressure and no-pressure, chemically assisted, soft washing processes for wood, stucco, and vinyl siding. Our highly-trained professionals perform cleaning and disinfecting miracles with our state-of-the-art equipment and an intense attention-to-detail on every square inch of your exterior surfaces, producing amazing results you have to see to believe. With the many incredible technological advancements in exterior cleaning in recent years, it pays to hire a specialist that is up-to-date on the best cleaning techniques and tools for every surface. Have Faith Pressure Washer Services, LLC will bring the maximum level of clean to your Hiram home with zero damage, even if you live in a glass house.

Reviews & Testimonials on Have Faith Pressure Washer Services, LLC in Hiram, GA
There are currently no reviews or testimonials for Hiram, GA. Check back soon!

Cleaning Tips & Articles
6 Blessings Of Gutter Cleaning

Experts advise that you should have your gutters cleaned bi-annually: just before the summer and the winter. But WHY is it important to properly maintain your gutters? Well, we've got six good reason […]

Graffiti: Art or Vandalism?

Graffiti is defined as "writing or drawings made on a wall or other surface, usually without permission and within public view." Graffiti ranges from simple written words to elaborate wall paintings, […]
Contact Us

Today
Schedule a Free Consultation Today with Your Local Rome Pressure Washing Company!