Our Roof Cleaning Will Safely Wash Away Black Growth And Dirt From Your Roof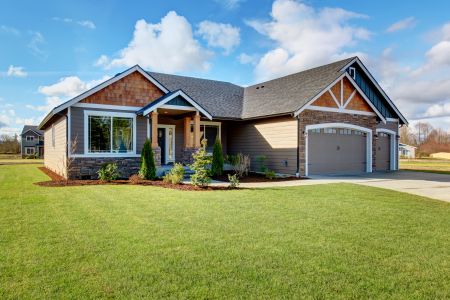 If you're seeing black streaks on your Rome roof, there may be more than meets the eye in the form of gloeocapsa magma, a destructive strain of algae that literally eats through your roofing materials, eventually creating leaks and degrading construction to the point of expensive roof replacement. Professional roof cleaning using a solvent-based soft washing process is the only surefire way to get rid of algae and other natural contaminants common to the North Georgia region. Our soft wash roof cleaning experts use eco-safe chemicals that kill gloeocapsa magma, mold, mildew, fungi, and other organic growths, and utilize lower pressure washing to avoid shingle and roof damage.
Have Faith Pressure Washer Services, LLC is the authority on all things pressure washing in Rome, and we have all of your exterior cleaning covered, from top to bottom. We're the top-rated choice to keep your home or business's rooftop clean and clear of destructive natural organisms, and our soft wash roof cleaning professionals bring that same soft washing TLC to our gutter cleaning and house washing service. We pride ourselves on benign a complete exterior cleaning solution for Rome's home and business owners. It's all part of our total package of residential and commercial services aimed at boosting curb appeal, eliminating sanitization threats, and protecting the future of your property.
Your roof is a serious investment and proactive cleaning and upkeep can extend its life to get the most for your money, and that cleaning and maintenance should only be entrusted to the proven leader in roof cleaning in Rome and North Georgia: Have Faith Pressure Washer Services, LLC.
Why You Need Soft Washing For Your Roof
The Asphalt Roofing Manufacturers Association specifically recommends low-pressure bleach or detergent assisted washing as the preferred method for cleaning asphalt roofs without damage to shingles. The soft washing process uses specialized low-pressure and no-pressure washing to apply environmentally friendly, biodegradable, water-based cleaning solutions formulated specifically for your type of roof. You can depend on our experienced roof cleaning team to destroy and eliminate:
Mold and Mildew
Algae and Bacteria
Fungus and Moss
Bird Droppings and Disease-Carrying Organisms
Leaf, Pollen and Smoke Stains and Discoloration

What Our Clients Are Saying
Our builder left shingles in the gutters so it was less pressure washing and more of Jamie being 20+ feet on a ladder to hand clean them. On time, great price, and an honest man. Definitely would recommend him to anyone.
Jamie did a wonderful job pressure washing our corporate signage! I highly recommend him for his professionalism and how quickly he got the job done!
Jamie is very professional and a pleasure to work with. He was on time, trustworthy, and his work ethic is great. Very pleased with the job he did on my awning. It looks brand new. I will definitely use his services again in the future.
I am MORE than satisfied with the work on 7/30/2021. We had several large areas of concrete cleaned and all areas exceeded my expectations. Additionally, Jamie is knowledgeable and explained the process along the way. The clean driveway, walk and sidewalk make the entire house shine. Great job.
Jamie came the next day after I called to give me a price. Very reasonable price!! He's very nice and does excellent work! We will definitely use him again!
Jamie is punctual and did a fantastic job. Our house, windows, gutter cover and driveway all look spotless with the pressure washing service! Availability and prices are also reasonable. If you need your home pressure washed, do not hesitate to link up with Have Faith Pressure Washer. It will make the world of difference!
He came when he said he would. He was friendly and professional. He did his job quickly and completely. I was very impressed. I would recommend him to anyone who wants a job well done.

Cleaning Tips & Articles
6 Blessings Of Gutter Cleaning

Experts advise that you should have your gutters cleaned bi-annually: just before the summer and the winter. But WHY is it important to properly maintain your gutters? Well, we've got six good reason […]

Graffiti: Art or Vandalism?

Graffiti is defined as "writing or drawings made on a wall or other surface, usually without permission and within public view." Graffiti ranges from simple written words to elaborate wall paintings, […]
Contact Us

Today
Schedule a Free Consultation Today with Your Local Rome Pressure Washing Company!