Dependable House Washing Pros To Make Your Home Look Great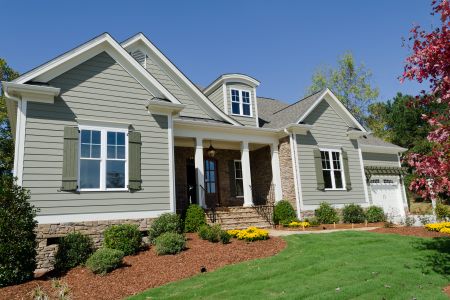 House washing might sound like a simple chore but remember that DIY also stands for Don't Injure Yourself, and hiring an amateur instead of a professional can lead to costly mistakes and possible damage to your Rome home or property. The safest and most effective professional house washing employs the soft washing process, and Have Faith Pressure Washer Services, LLC is the authority on soft washing and the leader in high quality pressure washing for Rome and all of the North Georgia region.
House washing and roof cleaning are two of the exterior cleaning applications that result in the most damage caused by inexperienced pressure washers. Aside from the obvious problems when overly-pressurized methods rip siding right off the building, or leave cuts and scars in siding material and shingles, the danger of pressurized water invisibly penetrating between seams and seals is critical. Such mistakes can soak insulation and drywall and cause expensive mold problems months later.
While there is definitely a need to rid your home's exteriors of dirt, stains, mold, mildew and more, there is absolutely no reason for you to risk life and limb testing your balance on ladders and scaffolds. Not to mention the dangers of highly-pressurized water that can actually lacerate skin and cause very painful wounds that take an extra-long time to heal. Plus, DIY pressure washing and house washing results will almost certainly be well below your expectations without the proper tools, training and technique.
Professional house washing is the smartest, most economical way to boost curb appeal and increase your pride of ownership for your Rome home of property, and you can trust the pros at Have Faith Pressure Washer Services, LLC to do it safely and effectively.
Say Goodbye To Damaging Fungi
Our house washing process does an especially impressive job of killing bacteria, fungus, algae, mold, and mildew that love to attack your vinyl and wooden siding. Our soft wash solutions destroy these dangerous organisms and dissolve dirt and stains, which are then easily removed with low-pressure or no-pressure washing. When it comes to truly effective house washing, there's no substitute for an experienced professional.
Inexperienced pressure washing squads and friends with rented pressure washing machines simply don't have the experience to recognize the potential damage they can cause to your home's siding. It's always best to seek out professionals for certain jobs like house washing and roof cleaning, and Have Faith Pressure Washer Services, LLC is the local pressure washing company that you can trust to take the best care of your Rome property and leave it sparkling like a diamond.
Recent House Washing Projects
Have Faith Pressure Washer Services, LLC was called to clean the mold and mildew off this house and apartment building. If you need house washing services for your home then call Have Faith Pressure […]
Have you ever wondered what your home would look like if the exterior of it was cleaned by a professional? Have Faith Pressure Washer Services, LLC completed a whole house wash including the porch, d […]

What Our Clients Are Saying
Our builder left shingles in the gutters so it was less pressure washing and more of Jamie being 20+ feet on a ladder to hand clean them. On time, great price, and an honest man. Definitely would recommend him to anyone.
Jamie did a wonderful job pressure washing our corporate signage! I highly recommend him for his professionalism and how quickly he got the job done!
Jamie is very professional and a pleasure to work with. He was on time, trustworthy, and his work ethic is great. Very pleased with the job he did on my awning. It looks brand new. I will definitely use his services again in the future.
I am MORE than satisfied with the work on 7/30/2021. We had several large areas of concrete cleaned and all areas exceeded my expectations. Additionally, Jamie is knowledgeable and explained the process along the way. The clean driveway, walk and sidewalk make the entire house shine. Great job.
Jamie came the next day after I called to give me a price. Very reasonable price!! He's very nice and does excellent work! We will definitely use him again!
Jamie is punctual and did a fantastic job. Our house, windows, gutter cover and driveway all look spotless with the pressure washing service! Availability and prices are also reasonable. If you need your home pressure washed, do not hesitate to link up with Have Faith Pressure Washer. It will make the world of difference!
He came when he said he would. He was friendly and professional. He did his job quickly and completely. I was very impressed. I would recommend him to anyone who wants a job well done.

Cleaning Tips & Articles
6 Blessings Of Gutter Cleaning

Experts advise that you should have your gutters cleaned bi-annually: just before the summer and the winter. But WHY is it important to properly maintain your gutters? Well, we've got six good reason […]

Graffiti: Art or Vandalism?

Graffiti is defined as "writing or drawings made on a wall or other surface, usually without permission and within public view." Graffiti ranges from simple written words to elaborate wall paintings, […]
Contact Us

Today
Schedule a Free Consultation Today with Your Local Rome Pressure Washing Company!