Concrete Cleaning To Lift Away Years Of Dirt And Wear From Your Property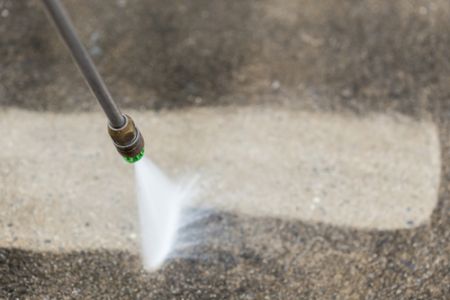 Have Faith Pressure Washer Services, LLC, the best choice for trustworthy pressure washing in Rome, is also the authority on residential and commercial concrete cleaning in Rome and the North Georgia region. Concrete cleaning is perhaps the most effective demonstration of the amazing cleaning power of pressure washing because flat concrete surfaces are not only porous and act as a magnet for dirt and fertile territory for organic growths, but also because they are often high traffic areas. The "before and after" effect is just stunning to observe in successful concrete cleaning projects, and we've never met a stubborn oil or rust stain we couldn't conquer.
With chemical options including natural, non harmful mineral acids, and other eco-friendly soaking and cleaning solutions mixed specifically to destroy and kill every type of spill, growth, discoloration, or stain on all of your concrete surfaces, Have Faith Pressure Washer Services, LLC is ready to serve all of your concrete cleaning needs. We're experienced with the types of organisms that thrive on concrete surfaces in the humid air along the Etowah, Oostanaula, and Coosa Rivers and the surrounding area. And our experienced concrete cleaning techs are experts at killing and removing those destructive organisms, along with that universal bedevilment: oil stains, which are especially abhorrent to us because they can pose significant slip and fall dangers.
Trust The Professionals To Keep Your Concrete Clean and Safe
Our professional-grade, specialized surface cleaning equipment, combined with our proprietary biodegradable chemical cleansing solutions mixed for maximum effect on each specific surface allows us to safely clean concrete surfaces and restore them to their original just-poured appearance. North Georgia home and business owners trust the concrete cleaning pros at Have Faith Pressure Washer Services, LLC for dependable, on-time service with reliably superior results on:
Driveway Cleaning
Sidewalk and Walkway Cleaning
Parking Lot Cleaning
Paver and Brick Cleaning
Concrete Wall and Structure Cleaning
Concrete is extremely porous, and those pores are a natural part of the curing process of the concrete as the water evaporates out. Over time, rain carries road dirt, salt, and other contaminants into the concrete through those pores making it look dirty. And those small pockets offer organic organisms like mold, fungus, and algae a place to put down roots and grow. Soft washing kills that organic growth with eco-safe chemicals, as it does in our house washing and roof cleaning services, but for concrete cleaning we then further blast away decades of dirty build-up with high-psi pressure washing that cleans deep down to a molecular level.
Homeowners of Rome, bring us your dirtiest, dingiest, most disgusting concrete surface cleaning challenges because we have faith in our pressure washing skills, and you will too, after an amazing, transformational concrete cleaning job by Have Faith Pressure Washer Services, LLC.
Recent Concrete Cleaning Projects
Cleaning this concrete driveway, walkway and brick porch with a soap solution to kill off the mold and mildew. Then we used our 24 inch surface cleaner to wash away all the dirt and mildew. If your c […]

What Our Clients Are Saying
Our builder left shingles in the gutters so it was less pressure washing and more of Jamie being 20+ feet on a ladder to hand clean them. On time, great price, and an honest man. Definitely would recommend him to anyone.
Jamie did a wonderful job pressure washing our corporate signage! I highly recommend him for his professionalism and how quickly he got the job done!
Jamie is very professional and a pleasure to work with. He was on time, trustworthy, and his work ethic is great. Very pleased with the job he did on my awning. It looks brand new. I will definitely use his services again in the future.
I am MORE than satisfied with the work on 7/30/2021. We had several large areas of concrete cleaned and all areas exceeded my expectations. Additionally, Jamie is knowledgeable and explained the process along the way. The clean driveway, walk and sidewalk make the entire house shine. Great job.
Jamie came the next day after I called to give me a price. Very reasonable price!! He's very nice and does excellent work! We will definitely use him again!
Jamie is punctual and did a fantastic job. Our house, windows, gutter cover and driveway all look spotless with the pressure washing service! Availability and prices are also reasonable. If you need your home pressure washed, do not hesitate to link up with Have Faith Pressure Washer. It will make the world of difference!
He came when he said he would. He was friendly and professional. He did his job quickly and completely. I was very impressed. I would recommend him to anyone who wants a job well done.

Cleaning Tips & Articles
6 Blessings Of Gutter Cleaning

Experts advise that you should have your gutters cleaned bi-annually: just before the summer and the winter. But WHY is it important to properly maintain your gutters? Well, we've got six good reason […]

Graffiti: Art or Vandalism?

Graffiti is defined as "writing or drawings made on a wall or other surface, usually without permission and within public view." Graffiti ranges from simple written words to elaborate wall paintings, […]
Contact Us

Today
Schedule a Free Consultation Today with Your Local Rome Pressure Washing Company!