Have Faith Pressure Washer Services, LLC: Calhoun's Top Pressure Washing Services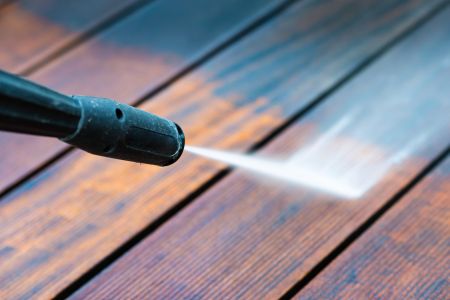 Calhoun was the capital of the Cherokee Nation, known as New Echota, until 1835, and is the present county seat of Gordon County, and with historic small-town charm, but with quick access to big-city amenities, Calhoun is steadily growing. Professional pressure washing not only preserves the history of your exterior surfaces by protecting them from organic threats like mold and mildew, but pressure washing also enhances the beauty of any structure by providing a deep clean so thorough and effective, it's like a time machine transforming your exterior surfaces to what they looked like at the very beginnings of their history.
Have Faith Pressure Washer Services, LLC seeks balance with nature by erasing the effects of her wear and tear on your Calhoun residential or commercial property's exterior surfaces, but only with the natural cleaning power of water and eco-friendly cleaning chemicals that do not affect plants, lawns, or wildlife. With a full suite of reasonably-priced professional pressure washing services including, house washing, gutter cleaning, roof cleaning, graffiti removal, and commercial pressure washing, we're Calhoun's most trusted exterior cleaning service and the most prepared for any job big or small.
Have Faith Pressure Washer Services, LLC is at your service with skilled, professional pressure washing and soft washing for your Calhoun residential or commercial properties.
Concrete Cleaning Holds Restorative Powers For Your Calhoun Driveways, Sidewalks, And Concrete Structures
Concrete cleaning is perhaps the most effective demonstration of the tremendous cleaning power of pressure washing because flat concrete surfaces are porous and act as a magnet for dirt and fertile territory for organic growths and because they are often high traffic areas. Concrete is highly porous, and those pores are a natural part of the curing process of the concrete as the water evaporates out. Over time, rain carries road dirt, salt, and other contaminants into the concrete through those pores, making it look dirty. And those small pockets offer organic organisms like mold, fungus, and algae a place to put down roots and grow. Our professional-grade, specialized surface cleaning equipment, combined with our proprietary biodegradable chemical cleansing solutions mixed for maximum effect on each specific surface, allows us to safely clean concrete surfaces and restore them to their original just-poured state.
House Washing Safely Renews Your Calhoun Home Or Business
High-velocity pressure washing is great for brick, tile, cement, and stone-sided structures, but it has a couple of drawbacks when dealing with vinyl or wood siding. Highly pressurized water can rip vinyl siding right off of the structure. Plus, there's an additional danger: pressurized water can penetrate between seams in vinyl siding and seep into insulation and dry-wall, creating all kinds of problems like black mold and structural decay, which can lead to huge expenses.
Soft Washing is solution-based and gentler for fragile surfaces like vinyl and wood siding. Eco-friendly, biodegradable chemical solutions and natural cleaning agents are applied with special sprayers and do an awe-inspiring job of killing bacteria, fungus, mold, and mildew that love to attack your vinyl and wooden siding. Our soft wash solutions destroy the offending organisms and dissolve dirt and stains, which are then easily removed with low-pressure or no-pressure washing. Soft washing is great for vinyl and wood siding and roof cleaning because it is safe for damage-prone surfaces, but it is also highly effective for any exterior where organisms have taken hold and established firm roots.

Reviews & Testimonials on Have Faith Pressure Washer Services, LLC in Calhoun, GA
There are currently no reviews or testimonials for Calhoun, GA. Check back soon!

Cleaning Tips & Articles
6 Blessings Of Gutter Cleaning

Experts advise that you should have your gutters cleaned bi-annually: just before the summer and the winter. But WHY is it important to properly maintain your gutters? Well, we've got six good reason […]

Graffiti: Art or Vandalism?

Graffiti is defined as "writing or drawings made on a wall or other surface, usually without permission and within public view." Graffiti ranges from simple written words to elaborate wall paintings, […]
Contact Us

Today
Schedule a Free Consultation Today with Your Local Rome Pressure Washing Company!