Superb Pressure Washing Company Serving Cedartown, GA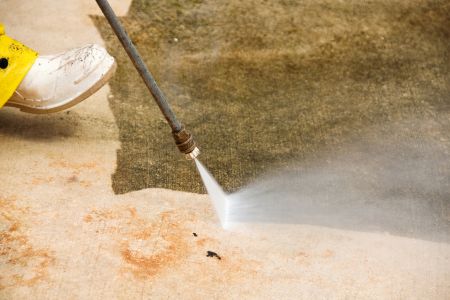 Cherokee and Creek Native Americans first inhabited the area known as Cedar Valley, and the settlement was eventually named Cedartown for the red cedar timber in the area, but it was Big Spring that drew people to Cedartown, and still does. The freshwater spring was the key to early life in Cedartown, and water, in the form of pressure washing, is also the key to keeping the homes and businesses of Cedartown looking like they were built yesterday.
Professional pressure washing by the skilled team at Have Faith Pressure Washer Services, LLC unleashes the natural cleaning power of highly pressurized water to blast away dirt and grime at a molecular level. We're also the area's leading authority on soft washing, the eco-friendly chemically assisted cleaning method preferred for damage-prone exterior surfaces in applications like roof cleaning, house washing, and exterior window cleaning, where high psi pressure washing is too much for certain fragile building materials, including cedar shake shingles if you're a Cedartown purist.
Keep your Cedartown home or business looking its best, choose Have Faith Pressure Washer Services, LLC for all of your exterior cleaning needs, and have faith in the best pressure washing company in the business.
The Flat Surfaces Of Cedartown Need Concrete Cleaning Too
Parking lots, garages, entryways, and sidewalks are all high-traffic areas and are highly susceptible to all sorts of spills, stains, and discoloration. Ground-in gunk and stubborn stains are easily and economically remedied with our concrete cleaning process. Often overlooked by business owners but noticed by customers, run-down parking lots and dirty flat surfaces will look brand new and thus positively promote your company brand when you trust Have Faith Pressure Washer Services, LLC with their cleaning and care. And don't forget your driveway; it's an extension of your curb, so don't let oil stains, spills, and roadkill ruin your home's perfect curb appeal image.
House Washing Is The Preferred Cleaning Method For Cedartown Homes
Soft washing is one of those pressure washing features that separates the pros from the amateurs, and it's a must for homes with vinyl or wood siding. If your Cedartown home has cedar siding, then high psi pressure washing is not a good idea because it can easily scar wood siding permanently. Wood and vinyl siding both require a safer, less invasive method, and that's where soft washing comes in. Pre-treatment with biodegradable, eco-safe chemicals kills organic infestations and dissolves dirt and grime, which is then easily removed with low-pressure washing. If your Cedartown home requires a little refreshing, call Have Faith Pressure Washer Services, LLC for the top-rated house washing service in the North Georgia region.

Reviews & Testimonials on Have Faith Pressure Washer Services, LLC in Cedartown, GA
There are currently no reviews or testimonials for Cedartown, GA. Check back soon!

Cleaning Tips & Articles
6 Blessings Of Gutter Cleaning

Experts advise that you should have your gutters cleaned bi-annually: just before the summer and the winter. But WHY is it important to properly maintain your gutters? Well, we've got six good reason […]

Graffiti: Art or Vandalism?

Graffiti is defined as "writing or drawings made on a wall or other surface, usually without permission and within public view." Graffiti ranges from simple written words to elaborate wall paintings, […]
Contact Us

Today
Schedule a Free Consultation Today with Your Local Rome Pressure Washing Company!