History And Science And Pressure Washing, Oh My!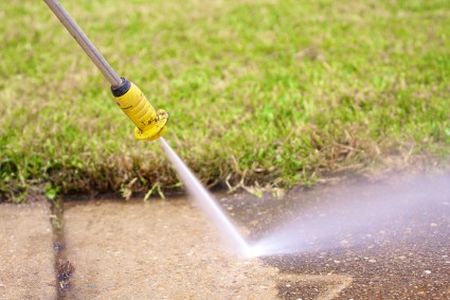 While working for a company that made gas-fired water heaters and boilers, Frank W. Ofeldt II invented the first steam pressure washer in the United States in 1926. He first had the idea for what would become the foundation of modern pressure washing while experimenting with his design for a portable whiskey distiller in his Pennsylvania garage where he noticed that when his design's steam outlet was directed downward, wet steam would hit his dirty garage floor and the built-up grease there would shift and move. He knew that steam was a gasified liquid without mass or body and therefore it could only move the grease and not remove it, so he set out to create a machine that could, and pressure washing was born.
Chemistry Plays Its Part With Soft Washing
The psi power of pressure washing reached its peak with gas-powered commercial-grade machines capable of up to 50,000 pounds per square inch (psi). But that kind of power had some drawbacks in certain applications like house washing and roof cleaning where more fragile building materials were damaged by the high pressure. Enter the science of chemistry, experiments with bleach, detergents, and mineral acids led to invention of the most effective cleansing solutions for use in pre-soaking to dissolve contaminants and kill organic growth on exterior surfaces which can then be removed using low-pressure and no-pressure washing. And so, the science of washing was born and continues to evolve. This is one powerful reason to hire a local professional exterior cleaning outfit like Have Faith Pressure Washer Services, LLC that keeps up with the latest developments in soft washing and pressure washing and makes the investments in equipment, supplies, and training necessary to be the best in exterior cleaning service in North Georgia.
Soft Washing As Archeology
Pressure washing also has a lot in common with the science of archeology. Archeologists take great care in restoring historical artifacts and sites to their original appearance without damaging them. Both sciences require a careful, precise, focused attention-to-detail, and both pressure washing and archeology produce an end product that is a huge source of pride to the cleaner. Our pressure washing experts take the utmost care in removing years of built-up dirt and grime from your exterior surfaces and restoring them to their original appearance. You can trust the professionals at Have Faith Pressure Washer Services, LLC to treat the cleaning of your home or business's exterior cleaning, with the same TLC as archeologists restoring a historically important archeological dig.
The science of pressure washing and exterior cleaning is always evolving, and the team at Have Faith Pressure Washer Services, LLC diligently studies and learns from the history and future of that science to provide home and business owners the best exterior cleaning service and results humanly, mechanically, and scientifically possible.

What Our Clients Are Saying
Our builder left shingles in the gutters so it was less pressure washing and more of Jamie being 20+ feet on a ladder to hand clean them. On time, great price, and an honest man. Definitely would recommend him to anyone.
Jamie did a wonderful job pressure washing our corporate signage! I highly recommend him for his professionalism and how quickly he got the job done!
Jamie is very professional and a pleasure to work with. He was on time, trustworthy, and his work ethic is great. Very pleased with the job he did on my awning. It looks brand new. I will definitely use his services again in the future.
I am MORE than satisfied with the work on 7/30/2021. We had several large areas of concrete cleaned and all areas exceeded my expectations. Additionally, Jamie is knowledgeable and explained the process along the way. The clean driveway, walk and sidewalk make the entire house shine. Great job.
Jamie came the next day after I called to give me a price. Very reasonable price!! He's very nice and does excellent work! We will definitely use him again!
Jamie is punctual and did a fantastic job. Our house, windows, gutter cover and driveway all look spotless with the pressure washing service! Availability and prices are also reasonable. If you need your home pressure washed, do not hesitate to link up with Have Faith Pressure Washer. It will make the world of difference!
He came when he said he would. He was friendly and professional. He did his job quickly and completely. I was very impressed. I would recommend him to anyone who wants a job well done.

Cleaning Tips & Articles
6 Blessings Of Gutter Cleaning

Experts advise that you should have your gutters cleaned bi-annually: just before the summer and the winter. But WHY is it important to properly maintain your gutters? Well, we've got six good reason […]

Graffiti: Art or Vandalism?

Graffiti is defined as "writing or drawings made on a wall or other surface, usually without permission and within public view." Graffiti ranges from simple written words to elaborate wall paintings, […]
Contact Us

Today
Schedule a Free Consultation Today with Your Local Rome Pressure Washing Company!